Article originally posted on www.dairylandinsurance.com

(opens in new tab)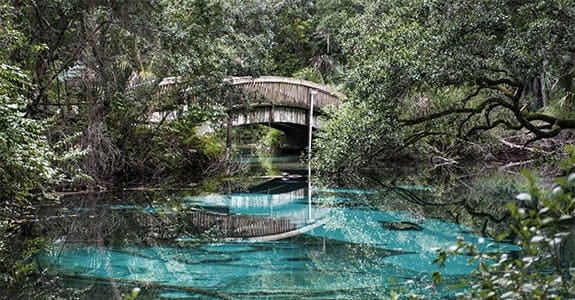 Ocala National Forest is the southernmost national forest in the lower 48 states and—at 607 square miles—the second-largest national forest in Florida.
This beautiful forest is conveniently located between Gainesville and Orlando, and is easily accessible from several major motorcycle rallies that occur in Florida each year, including Daytona Beach Bike Week.
The scenery, roads, and trail networks combine to make Ocala National Forest a popular destination for motorcycle and off-road riders, not to mention a more peaceful alternative to the hustle and bustle of nearby cities.
Navigating Ocala National Forest
Two main roads crisscross Ocala National Forest:
Florida Route 40 (FL40) travels east-to-west from Ormond Beach on the Atlantic coast to Silver Springs. FL40 is also known as Florida Black Bear Scenic Byway.
Florida Route 19 (FL19), a north-south road, passes through the forest from Palatka on its way down to Eustis.
FL40 and FL19 intersect near the middle of Ocala National Forest, just southwest of Lake George. Additionally, several county roads throughout the forest make for excellent side trips and loops.
Finally, if you feel like parking your motorcycle and heading off-road for a bit, you can explore several forest service roads—many of which are unpaved—along with dedicated ATV/UTV trails.
Ocala National Forest motorcycle route map
Our interactive route map will give you a solid foundation for your Ocala National Forest, beginning along the state's east coast at Ormond Beach and wrapping up in Silver Springs. Be sure to give yourself time to explore the forest and make your trip unique.
Are motorcycles allowed in Ocala National Forest?
Yes, motorcycles are allowed on paved public roads. Depending on your motorcycle type, you may also be able to explore unpaved trails and special off-highway vehicle roads, along with the forest service roads.
Do you have to wear a helmet in Ocala National Forest?
Off-road motorcycle riders 16 years old and under must wear a motorcycle helmet when using national forest's trails system. Adults need to follow Florida's current state motorcycle helmet regulations.
Ocala National Forest weather
Ocala National Forest is a beautiful and rideable destination all year round, but you'll still want to know what types of weather you're likely to experience as you plan your trip. Here are the monthly temperature and precipitation averages for nearby Ocala, Florida:
Motorcycle safety
Motorcycle riding in the Ocala National Forest allows you to experience some of the natural beauty of undeveloped Florida. It's a great escape from busy urban areas—and if you're in state for a motorcycle rally, it's a great getaway from the crowds and rally traffic shuffle. Just remember that less populated areas still have hazards to be aware of as you ride.
Ocala National Forest is home to many animals, including black bears, alligators, and snakes. Stay alert for animals crossing the road, and never approach them.
Watch for sand and other debris on the road surface.
Heavy rain and thunderstorms can reduce visibility and make the road slippery. Check the forecast ahead of time and make sure to pack wet-weather riding gear.
Does Ocala National Forest have alligators?
It sure does. While riding your motorcycle through the wetlands of the Ocala National Forest, you could see an alligator sunning itself on the side of the road. The wisest thing to do is to enjoy this wildlife sighting from a safe distance and keep on riding. Never approach an alligator to get a selfie or a close-up photograph—they can charge surprisingly quickly, and their jaws are incredibly strong.
Stops to make during your Ocala National Forest ride
Ocala National Forest offers a bountiful array of outdoor recreational possibilities. There are plenty of places to stop and enjoy the scenery, along with a few places to buy gas and find something to eat. Let's look at two popular ways to access the Ocala National Forest and create an in-park motorcycle riding loop.
Lake George
If you feel like testing your mettle against some of the country's biggest largemouth bass, pick up a fishing license and head to the shores of Lake George. The lake also offers plenty of opportunities for other recreation, including kayaking, canoeing, and stand-up paddleboarding.
Juniper Springs Recreation Area
Juniper Springs Recreation Area is one of the area's top destinations for boating, camping, day hiking, and swimming. After a long day of biking through the sunshine and humidity of Ocala National Forest, the welcoming shade and spring-fed pools at Juniper Springs feel like paradise.
If you're looking to explore even more of the Southeast's top motorcycle routes, head north to ride the Blue Ridge Parkway.
After riding through Ocala National Forest's wetlands, you'll probably want to deep clean your motorcycle. Not only will this help preserve your bike's shine, it's also a crucial step in bike maintenance.
The general information in this blog is for informational or entertainment purposes only. View our blog disclaimer.
*Data accuracy is subject to this article's publication date.
Dairyland® is affordable insurance that works for you.
No matter what journey you're on, we're all driving down the same road. And we're here to help protect you when you need us most. For decades, customers like you have trusted Dairyland® for:
Car insurance
Motorcycle insurance
We offer customized coverage, money-saving discounts, flexible payment options, SR22s, and outstanding customer service.
Contact Beathard Insurance today to experience the Dairyland® difference for yourself.
Filed Under: Motorcycle Tips
|
Tagged With: Motorcycle Insurance